Tools and Resources to Prevent and Reduce E-Cigarette and Other Tobacco Use Among Middle and High School Students
Please educate and train school staff to support this policy and tobacco-free school compliance by using the following tools and resources.
In 2018 North Carolina celebrated two decades of our statewide 100 percent tobacco-free school law, which was the major driver in lowering cigarette smoking rates among NC middle and high school students to historic lows. However, progress is eroding due to what the US Surgeon General has called "the e-cigarette epidemic among youth."
We know what works to effectively protect young people from all forms of tobacco, including e-cigarettes, cigarettes, cigars and little cigars, and hookah. Below are resources to help schools and parents deal with this new and growing challenge.
The NC Healthy Schools Program and the Chronic Disease and Injury Section of the NC Division of Public Health developed this infographic to provide resources for NC schools to address the youth e-cigarette epidemic.
A School's Role in Reducing Youth Tobacco Use
Implement Effective 100% Tobacco-Free School Policies
N.C.G.S. §115C-407 requires that every North Carolina school district have a written 100 percent tobacco-free school policy that prohibits the use of any tobacco products, including e-cigarettes, on campus and at school-related events for students, staff and visitors. Schools and communities should continue to educate and train school staff to support this policy and tobacco-free school compliance.
For students who violate the tobacco-free schools' policy, we recommend:
Confiscate and do not return the tobacco products, including e-cigarettes/vaping devices and e-cigarette paraphernalia, cigarettes, cigars, smokeless tobacco and snuff, and hookah tobacco and paraphernalia from the student.
Use an alternative to out-of-school suspension. Find free, effective options in this resource list
Offer cessation support to any student who is ready to quit. If your school does not have cessation services available, see cessation resources below.
Call in a Consultant
Your Regional Tobacco Control Manager is available to provide technical assistance on tobacco-free policy issues and to implement a tobacco prevention and control program, including e-cigarette/vape/Juul educational program.
The following free resources are available to your school and community partners to address the surging use of e-cigarettes/vaping devices among youth.
Implement Curricula
CATCH My Breath™is an evidence-based tobacco use prevention curriculum that addresses middle and high schoolers' use of e-cigarettes and meets national and state educational standards. The curriculum is available free of charge to NC schools. Find other free and effective options in this resource list
We do not recommend tobacco prevention and cessation programs being promoted by or funded by tobacco or e-cigarette companies. Many past studies have shown such programs are ineffective, at best.
Engage Students and Parents in Solutions
Help teens quit tobacco
The NC Tobacco Prevention and Control Branch offers a quit vaping program for young people that also has a program for parents. Live Vape Free is a text program with engaging content for young people and a program featuring online videos to educate parents and other adults about young people's struggles with vaping and nicotine addiction. Young people can text VAPEFREENC to 873373 to join.
Quit the Hit is a new vaping cessation program for youth aged 13-17 that uses Instagram groups. Young people work with an adult facilitator for five weeks and support each other while quitting. Learn more here.
The Truth Initiative® has expanded its quit-smoking resources to include a first-of-its kind e-cigarette quit program. This innovative and free text message program:
Tailors content by age group to give teens and young adults appropriate recommendations about quitting.
Serves as a resource for parents looking to help their children who now vape.
Uses input from teens, college students, and young adults who have attempted to, or successfully, quit e-cigarettes.
To access "This is Quitting", text DITCHVAPE to 88709. Parents or other adults who want to help young people quit can text "QUIT" to (202) 804-9884.
North Carolina provides a telephone and web-based tobacco treatment program free to our state's residents, with a special program for teens who are addicted to tobacco products, including e-cigarettes. Teens who participate receive coaching from a dedicated Quit Coach, specially trained to work with adolescents. Students can access this program by calling 1-800-QuitNow (1-800-784-8669), texting ready to 34191 or visiting this site.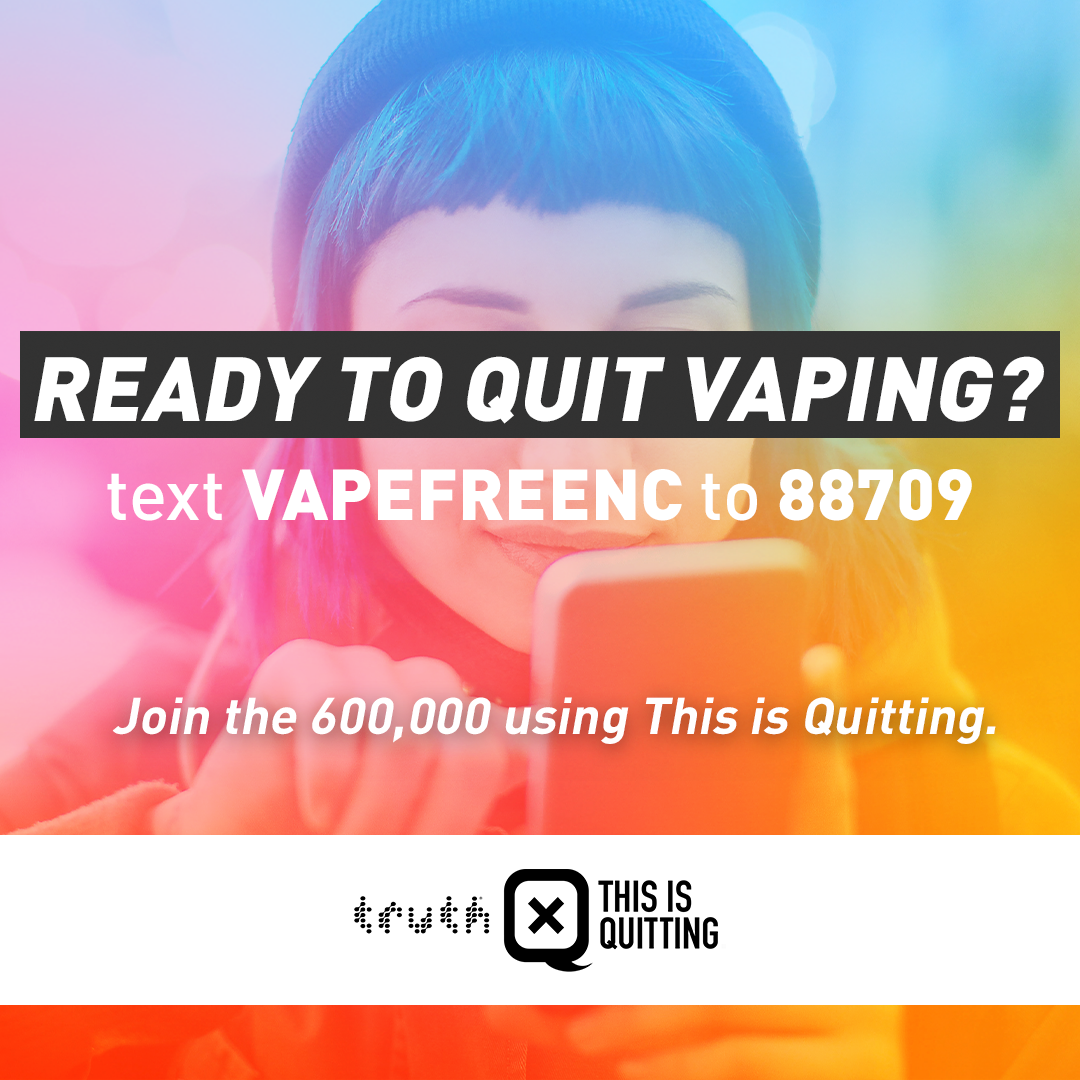 Media Resources
The following posters, envelope stuffers, and newspaper ads that promote 100 percent tobacco free schools are available at no charge as a part of the Health and Wellness Trust Fund media campaign.
100% Tobacco Free Schools Adult Compliance Posters
100% Tobacco Free Schools Posters
100% Tobacco Free Schools Newspaper Ads